The Humane Society of McDonough County (HSMC), incorporated in 1984, is a State of Illinois Not-for-Profit organization and a qualified 501(c)3 charitable organization that supports, but is completely separate from, the McDonough County Animal Shelter.
Initiatives
In accordance with its stated Purpose, the HSMC:
Promotes the adoption of cats and dogs at the McDonough County Animal Shelter
Sponsors and fosters those Shelter animals that need more assistance in finding homes
Reduces the overpopulation of cats and dogs via two separate spay/neuter programs
Provides medical care to Shelter and County animals in need
Helps to keep pets in their homes and with their families via the Pet Food Pantry and Angel Fund
What it costs
The HSMC is an all-volunteer, membership-based organization, but we do have expenses associated with accomplishing our mission.  Here are examples of some of our expenses:
$25 funds one low-cost spay/neuter
$35 funds one spay/neuter of an animal adopted from the McDonough County Animal Shelter
$50 purchases 10 Cat Vaccines (FVRCP)
$100 purchases a State of Illinois Dept of Agriculture Annual License for HSMC Rescues
$400-$1,000 purchases 1 Heartworm treatment
$625 funds one spay/neuter transport and clinic fees for 25 cats
What Your Support Accomplishes!
Here are some examples of 2019 accomplishments:
125 dogs and 245 cats were adopted from the McDonough County Animal Shelter, which is an all time high due in large part to the effective partnering of the shelter with HSMC and the community in caring for and finding homes for animals that end up at the shelter This is done via promotions on social media, coverage of medical costs (e.g., heart worm treatment), special pricing, and individual sponsorship of the adoption fee.
The HSMC rescued 4 dogs and 10 cats from the shelter during 2019, all of which have been adopted or rehomed.
109 cats were altered via 5 transports through the HSMC's partnership with Quincy Humane Society's Low Cost Spay/Neuter Clinic. The HSMC contributes $25/cat for spay/neuter.  The number of transports were limited due to unforeseen complications at the clinic.
Of the 370 cats and dogs adopted from the McDonough County Animal Shelter, 353 were not previously altered. The HSMC contributes $35/animal for the spay/neuter of these unaltered pets.
An average of 40 families per month are served through the Pet Food Pantry program.
Your Support leads to Wonderful Success Stories!
This year we are highlighting Harley's story…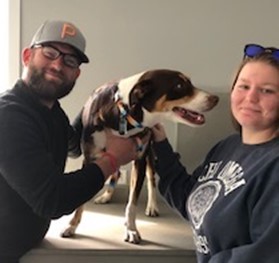 Harley, an Australian Shepherd mix, came to the shelter in June 2019.  The 3-year old girl was scared and untrusting after her owner had moved and left her home alone.  After a couple of months stay at the shelter, she was better, but still not comfortable nor trusting.  The HSMC rescued her and placed her in foster care with Lars Gossel at Gossel's Doghouse.  And there she thrived.  Harley became confident; loved playing with other dogs; and learned that she could trust people.  In late October she found her forever home with Kendall and Carly.  In late September, 2020 they reported: "Harley has been amazing since day one. She has so much personality and absolutely loves her naps. Apart from feeling like she owns our king-size bed she is a great companion. Can't believe it's been almost a year already and cannot wait for many more. Thank you!"
Working together to get everyone adopted. Thank You for Your Support!