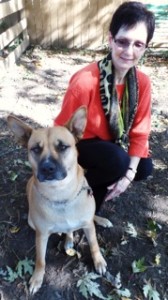 Yoda must be the happiest dog alive as he has been with us, his forever family for exactly one year. We remember being told that Yoda had been in the shelter for many, many days so we assumed he would be thrilled to see us on our first visit! Much to our surprise, Yoda was kind of crazy that day as he was more excited about being outside and seeing other dogs than he was in visiting with us. He did, however, manage a few tail wags and doggie smiles. The word was out that the Humane Society of McDonough County was going to rescue him and so we decided to be his foster "parents." We had lost our oldest GSD to cancer and our other GSD, Lexie, was very depressed and despondent over that loss. We knew if we gave Yoda a chance, he just might be able to help Lexie out.
Once Yoda arrived at our home, he met Lexie and the household kitties. He had no concern for the kitties but they kept their distance from him, just the same, and watched him from afar. Lexie and Yoda had the usual introductory smells and then she took him outside to the big, fenced in back yard where they ran and played together. Yoda and Lexie became new, best friends. We knew that Yoda was already potty trained and he even showed us a few of his favorite tricks such as come, sit, and shake. Now he loves to give out high-fives! Of course, there are plenty of kisses that go along with anything he does. After only a few days, we knew that he was a "keeper."
Yoda had several trips to the vet's office for vaccinations, neutering and treatment of his heartworms. Once those treatments were finished, he was cleared by the HSMC for adoption. We knew that Yoda became the happiest dog alive because we officially adopted him into our family. He is in his forever home where we love and spoil him. Adopting a shelter dog is the way to go! We hope other dogs will come to know the love and joy of being adopted by a caring family like our Yoda.
Linda and Mark Andrews