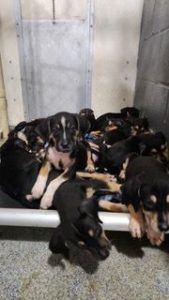 The Humane Society of McDonough County budget for specialized medical care for shelter animals has taken a big hit with illnesses, and we are just halfway into the year. In many cases, treatment can cost up to $1,000 per dog/puppy.
Unfortunately, this litter of puppies dropped off at the shelter has become ill. We need help. A healthy outcome for these pups isn't guaranteed, but we want to ensure they get the required medical attention to hopefully save them. Plus, we need to be able to respond to other medical emergencies that come up for the animals at the shelter.
We have already paid over $8,000 in covering special medical costs for shelter animals since January 1, which is more than we spent the entire 2022 calendar year! Our goal is to raise an additional $8,000-$10,000 to cover treatments. This fundraiser is specific to helping the puppies and is separate from our annual fundraisers. If all donations aren't used for these puppies, they will be earmarked for upcoming special medical needs.
Let us be clear, this situation in no way reflects the care of cats and dogs given by the shelter staff, so let's keep this fundraiser on a positive note!
If you can assist, you can donate by:
Mailing a check to HSMC, PO Box 7, Macomb, IL 61455
PayPal at hsmcil@hotmail.com
Venmo @HumaneSocietyofMcDonoughCounty
Please be sure to make a note on your donation that it's for the shelter puppies!
Thank you so much for your support!